Bathroom Plumbing in Frederick Maryland and Surrounding Areas
Bathroom Renovations-New Installations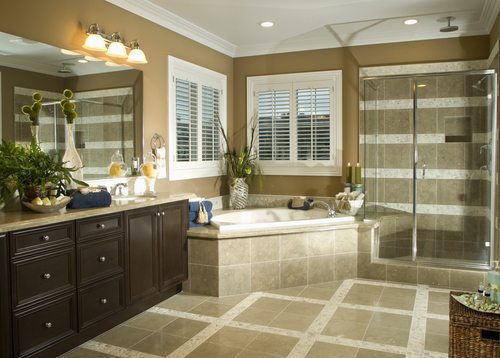 Bathrooms are used more than any other room in your house and your plumbing should be properly maintained to avoid a mishap.  Griffith Plumbing is every homeowner's friend when it comes to all aspects of bathroom plumbing, installation, or replacement.  We offer a full line of services to keep your bathroom in tip-top functioning condition including:
Bathroom Upgrades
Bathroom Renovations
Bathroom Installations
Bathroom Leak Repairs
Bathroom Faucet Repairs
Bathroom Faucet Installations
Bathroom Faucet Replacements
New Toilet Sales
Toilet Installations
Toilet Replacements
Toilet Repairs
Shower Installations
Shower Head Repairs/Replacements
Shower Drain Cleaning
Shower Drain Repairs
Our plumbers are qualified to solve any plumbing problem you may encounter related to showers, drains, tubs, faucets, sinks, toilets, and any other plumbing fixtures or pipes in your bathroom.  There is an array of plumbing in your homes' bathroom.
Clogged drains in sinks, showers or tubs are caused by a build-up of soap, hair, and toothpaste in the drain pipe and trap.  It is not easy to clear these clogs and that's why it's important to entrust an expert plumber to do the job.  Our plumbers will remove all debris from the drain and restore the proper drainage of your pipes.
Bathroom tub and shower plumbing include drains, faucets, showerheads, stoppers, and venting.  Our technicians are equipped to perform a wide variety of plumbing options to make your bath sophisticated and functional.  From a loose faucet handle, water drips keeping you awake at night, to larger leaks or inconsistent water pressure, we are equipped to repair your bathroom plumbing issues.  Griffith Plumbing can also install new, sophisticated faucet designs, showerheads and jetted tubs.  Our qualified plumbers can handle any bathroom plumbing repair, installation, or replacement.
Faucets can be tricky to repair with all the intricate parts and types of faucets.  We stock our trucks with the replacement parts for compression, disk, ball, and cartridge faucets.  If your faucet is beyond repair, Griffith Plumbing offers bathroom faucets such as Moen, Delta, Kohler, and other major brands.
Toilets are another area of concern in the bathroom.  They clog, run, leak, and often require a professional plumber to repair them.  Avoid an overflow or water running for extended periods of time and call Griffith Plumbing to repair your toilet.