Frederick Commercial Drain Cleaning
Fast & Reliable Commercial Drain Cleaning Services
Did you flush your toilet or run some water in your office just to watch it backing up in fear of an overflow? Call Griffith Plumbing near Frederick and Washington county to fix the plumbing drain problem. Our technicians have the tools needed to clear your drain and have you freely flushing in no time.
The Impact of Regular Commercial Drain Cleaning
Regularly cleaning your drains and sewers can confer a number of benefits to your office or commercial building. First and foremost, professional drain and sewer cleanings keep your plumbing systems clean and clear of potentially damaging debris. In addition, sewer drain cleanings can help restore the regular flow of water that otherwise may have been obstructed by wastewater backups. Our technicians are trained and experienced in the resolution of any commercial plumbing drain problem. When you need your sewer drains cleaned, look no further than your local Frederick plumbing professionals at Griffith Plumbing.
Griffith Plumbing knows how frustrating a clogged can be in your office space or commercial building. Our fast, reliable drain cleaning service throughout Maryland clears your drain quickly. Contact us if you are experiencing: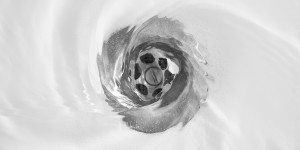 Clogged Kitchen Sinks
Garbage Disposal Issues
Slow Draining Sinks
Clogged Bathroom Sinks
Water Coolers
Eye Wash Stations
Our expert commercial drain cleaning experts at Griffith Plumbing will have your office back to business in no time! Our team can ensure the quality of cleaning by the use of a video camera run down the drain and/or sewer line. Contact us today for fast, reliable, professional service in Frederick, Washington, Montgomery, Loudoun and nearby communities.