Hot Water Heaters
Hot Water Heater Sales, Replacement & Repair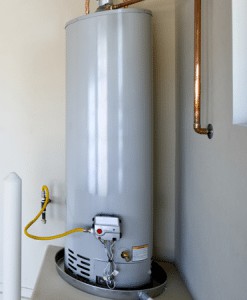 One of the most common issues with water heaters is the results from the effects of hard water.  This issue becomes more prevalent in older hot water heaters as calcium and magnesium accumulate on the elements and sides of the tank.  Over time this build up will cause serious issues with regard to the performance of your water heater.
Electric hot water heaters store water in a tank and use elements to heat the water.  These water heaters are available in a variety of tank sizes.  The average life span of an electric hot water heater is 10 years and often the elements will burn out during this time span.  No one wants to take a cold shower or wash their dishes in cold water, so hot water is extremely important.
This is why Griffith Plumbing provides emergency hot water heater repair services.  Our trucks carry the required parts to repair most hot water heaters.  Our skilled plumbers will have your hot water flowing in no time.
Should you require a hot water heater replacement, Griffith Plumbing will provide you with hot water heater options, taking into consideration your budget, and help you select a hot water heater to suit your home's needs.
Contact Griffith Plumbing to schedule an appointment or learn more about your hot water heater options.